203.691.5826
Services and Crate Types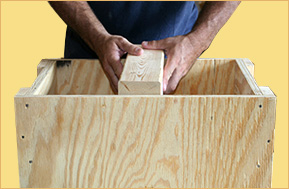 Services offered:
Manufacturing crates, corporate
Personal use crating, residential
Onsite and offsite crating
Domestic & international crating
Moving crates
Storage and warehousing
Complete system packaging
Logistics handling, cost management
Rigging of large items
Reusable show crates
Certified drop testing by an independent lab if required.
One on one contact that can integrate with your shipping department.
Next day service - in most cases at no extra charge!
Onsite analysis of products to produce safe and economical shipping and packaging.
A few types of crates:
ISPM Compliant – 15 crating for international shipping
Custom crating
Reusable crates
Crate kitting
Heat treated wooden crates and dunnage
3 basic designs of "generic" type crates for your ordering ease
No crate size too large or small
Skeleton crating offered